Hi, I'm Andrea Rubinstein....
I loved to draw growing up but, as so often happens, life got in the way and eventually I stopped.
Then, shortly after I retired, I saw a friend's travel sketchbook and was inspired to start one myself. I began carrying a small sketchbook with me and, using mostly watercolor and ink, I began to sketch things in my everyday life that captured my attention or seemed significant. By forcing me to closely pay attention to the moment, I quickly realized that these sketches, no matter how wonky they were, created more vivid memories for me than all those quick photographs I had been taking. I was hooked!
Eventually I felt the desire to expand beyond my daily sketchbook practice and make paintings using only watercolor. I now find the immediacy, transparency and unpredictability of the watercolor medium fascinating & the challenge it presents to "go with the flow" quite satisfying.
Beyond this, I would say my artwork has been inspired by the distinctive places I have lived, including New York, San Francisco, SW Florida, Phoenix, Michigan, SW Louisiana and now Princeton Junction, my travels, my love of nature & my two crazy cats.
I hope you enjoy my artwork as much as I do creating it.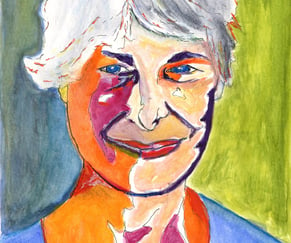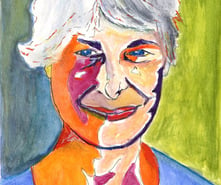 My Life as an Artist....
Education
Master's of Museum Practice, University of Michigan
Professional Experience
Kalamazoo Institute of Arts, NEA Intern
Phoenix Art Museum, Registrar & Assistant Curator
Vermilionville Living History Museum & Folk Life Park, Board of Directors
Exhibits
2017 Lafayette Art Association, Juried Exhibit, Lafayette, LA

2017 Lafayette Watercolor Society, Lafayette, LA

2017 Fine Arts Co-op Gallery, Juried Exhibit, Lafayette, LA

2019 Watercolorists Unlimited Group Show, Blackwell Mills Canal House, Somerset, NJ

2019 Watercolorists Unlimited Group Show, "Autumn Splendor", Gourgaud Gallery, Cranbury, NJ

2021 Watercolorists Unlimited Group Show, "Friends of Color", Gourgaud Gallery, Cranbury, NJ

2021, Watercolorists Unlimited Group Show, Parsonage Barn, Cranbury, NJ

2022, Mercer County Senior Art Show

2022, Watercolorists Unlimited Group Show, "Back to the Palette", Gourgaud Gallery, Cranbury, NJ

2023, Artists Circle Group Show, Village Grande at Bear Creek, Princeton Junction, NJ

2023, Watercolorists Unlimited Group Show, Cranbury Public Library, NJ
Workshop Education
Susan Crouch

Evelyn Dunphy

Jean Haines

Joyce Hicks

Tom Powers

David Rankin

James Richards

Shari Blaukoph
On-line Education
Sketchbook Skool

Laure Ferlita

Jane LaFazio

James Richards

Hazel Soan

Liz Steel

Jean Haines

Angela Fehr

Brenda Swenson

Andy Evansen

Pamela Harnois

David J. Rodgers